Increasing sales and revenue is one of the goals of a media sales consultant. Their job is to help companies meet their sales targets by recommending changes to the sales process.
Their strategies also include promoting their products and services to clients. Responses to leads and inquiries are usually handled by sales consultants. In addition, they maintain relationships with existing and prospective clients.
The role of a sales consultant involves many responsibilities and duties. It is their responsibility to determine the needs of a customer and suggest solutions based on those needs.
A sales manager oversees sales staff and hires additional professionals. In addition, consultants develop key performance indicators for departments. As part of their job, they also develop new sales strategies in collaboration with the sales representative and the marketing team. With Pearl Lemon Consulting, don't miss out on the latest updates on marketing strategy and business consultations!
Work Environment
The typical weekday schedule for sales consultants is eight-hour shifts in diverse environments. In the course of performing their duties, they are usually bound by quotas, deadlines, and commissions. In addition to working in office settings, many professionals occasionally travel to meet with potential clients.
Professional networking events may be attended by sales consultants to build a network of contacts. By doing this, they acquire new sales leads and maintain relationships with existing clients. Sometimes sales consultants contact prospects through phone calls or emails instead of visiting them in person. In addition to insurance, publishing, management, education, and the medical field, sales professionals can transfer their education, skills, and expertise to a variety of other industries.
Media Sales Consultant Career Paths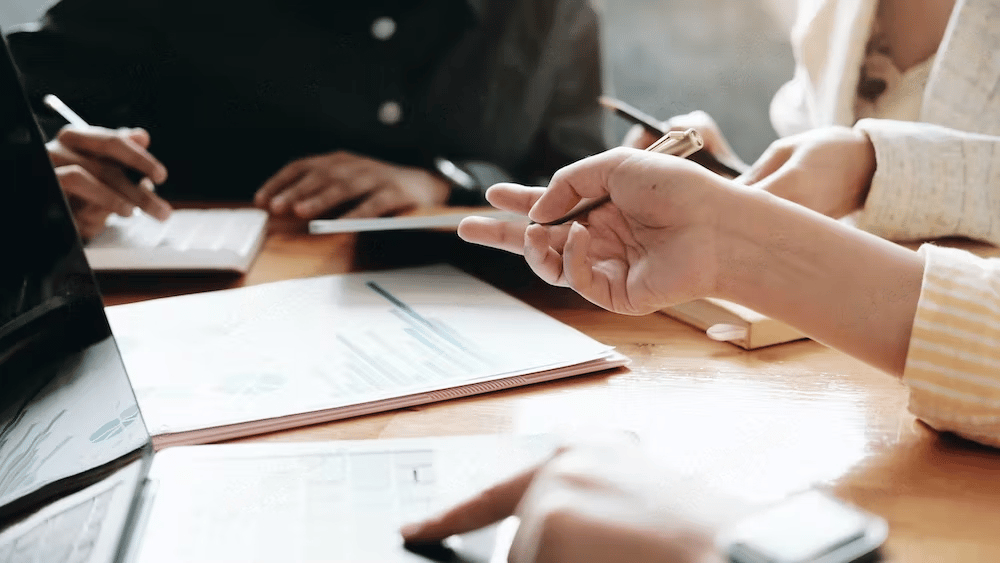 Besides switching up the way you search for a job, it may also prove useful to look at a career path relevant to your particular position. The career path is a map that shows how your career might develop from one job title to another and how it might progress. For example, someone who started as an account executive might move on to a role such as an account manager in the future. You may hold the title of territory account manager later in your career.
Step-by-Step Guide to Finding a Job in Media Sales Consulting
Media sales consultants need a certain amount of education to achieve success in their careers. An undergraduate degree is usually required before working as a digital marketing consultant. Media sales consultants can attain higher education levels by obtaining master's degrees. Nevertheless, high school diplomas and GEDs can be enough to become one. Check out the typical process of becoming a media consultant:
1. Get relevant training and certifications
Some companies prefer applicants with degrees or certificates in business administration or marketing. Others might prefer candidates with master's degrees. An Institute of Sales Management or Chartered Institute of Marketing certification adds value to your CV and makes you more desirable to employers.
If you're considering a career in sales, you can obtain the Certified Professional Sales Person certification. It is the world's largest sales association, and professionals completing a course there has access to valuable information. It takes six weeks to obtain the certification. As a National Association of Sales Professionals member, you can benefit from many networking and training opportunities.
2. Research the job description
Many companies hire sales consultants who have a significant amount of consulting experience. By performing an online search, you can find out which industries require sales consulting expertise and target those industries. The first thing you should do when searching for a consultant is to make sure you use your desired industry along with the word 'media sales consultant' or 'consulting' to filter the results.
3. Identify your specialisation
A good way to make yourself more noticeable to companies is to identify your sales specialities and highlight them. To establish yourself as a consultant with experience, you will need a strong skill set, certificates, training, and knowledge to assist you with your work. By going through this process, you will have solid references you can use when applying for jobs in the future.
4. Build your network
Most consultants network with each other to get clients and contacts when working on contracts and projects. To expand your professional network, you should join relevant organisations and attend conferences and other gatherings. Ensure that you update your social media profiles and that you are active in professional groups and pages on social media.
5. Browse for job postings and opportunities
It is important to remember that there are many places you can search for a job while looking for one. It would be a good idea to utilise a job board for a more thorough investigation. By using the available resources, you can be certain of getting personalised results based on your needs and abilities.
6. Update your CV
When applying for sales consulting jobs, it is essential to have a professional CV and cover letter that is tailored to the job specification. It is essential to ensure it contains all relevant information and then describes your accomplishments in a manner easily understood by someone outside of your field of expertise. Before applying for a job, you should tailor your cover letter to make it more personal.
Conclusion
Media sales consultants are the key players in the marketing industry. They are responsible for selling products and services to media outlets. They are also responsible for generating revenue and keeping track of expenses. A media consultant is expected to be:
Goal-oriented since they are in charge of setting their tasks and envisioning their goals.
Excellent at building contacts and establishing a wide network of clients.
Adept at negotiating to close valuable business deals and maintain customer loyalty.
Book a call with Pearl Lemon Consulting to find a team for your business and marketing needs.
FAQs
Who do media sellers work for?
Media sales is a field that deals with selling digital products and services to customers. In today's world, media sellers have many opportunities to earn money.
They sell advertising space on websites and blogs or sell subscriptions to premium content providers such as magazines or Facebook pages. They also sell merchandise from products such as clothing or electronics. They are responsible for the job of promoting and selling these products.
How do I pass a sales consultant interview?
A sales consultant is a professional who helps clients to sell their products or services. They are responsible for helping clients to achieve their goals. A sales consultant can be either a buyer or seller of products and services.
They work as a company representative who tries to get the best deal by negotiating with customers on behalf of their company. Success in a sales interview is not just about knowledge and skills but also about personality. Sales consultants must relate with the client and make them feel comfortable in the interview.
What is the salary of a sales consultant?
In the average year, a sales consultant earns £26,046 in salary, which is a very good income. There can be a wide range of pay for sales consultants depending on the type of work they perform. In some instances, someone may be employed by an organization on a full-time basis, while in other cases, they may be employed on a contractual basis.